A crypto wallet is a primary necessity for dealing with cryptocurrencies. There are a plethora of digital currencies such as Bitcoin, Ethereum, Dogecoin, and many more. To invest or start trading in one, the first thing you need is a crypto wallet.
These cryptocurrencies require a virtual space for storage. A crypto wallet is one that supplies these virtual spaces.
Speaking of crypto wallets, it is not one kind for all. It has different varieties for different purposes. Each has its own set of pros and cons. Generally categorizing, we have two distinct wallet types: hot and cold wallets.
The key difference between the two is one requires an active Internet connection, while the other functions offline. Let us discuss more!
Hot Wallets
Hot wallets are the one that requires an active Internet. These are pretty intuitive and user-friendly. However, they are more vulnerable to security threats and breaches.
Cold Wallets
Cold wallets exist for cold storage, a.k.a storing crypto tokens offline. Right off the bat, it offers you improved security. Cold wallets are instantly a more secure choice than others. However, for newbies and inexperienced traders, it might be a bit complicated at first!
Importance of Digital Keys
There are two distinct digital keys: called public and private keys. Digital keys are vital to carry out a plethora of crypto-related activities.
You may purchase, ship, acquire, convert crypto into Fiat currencies with the help of digital keys. Private and public keys are always in alphanumeric form.
In Bitcoin wallets, the private keys are the ones referred to as secret keys in online mode. If you lose your private key, you lose all your crypto possessions.
Needless to say, keep your private key safe and protect them from unauthorized access.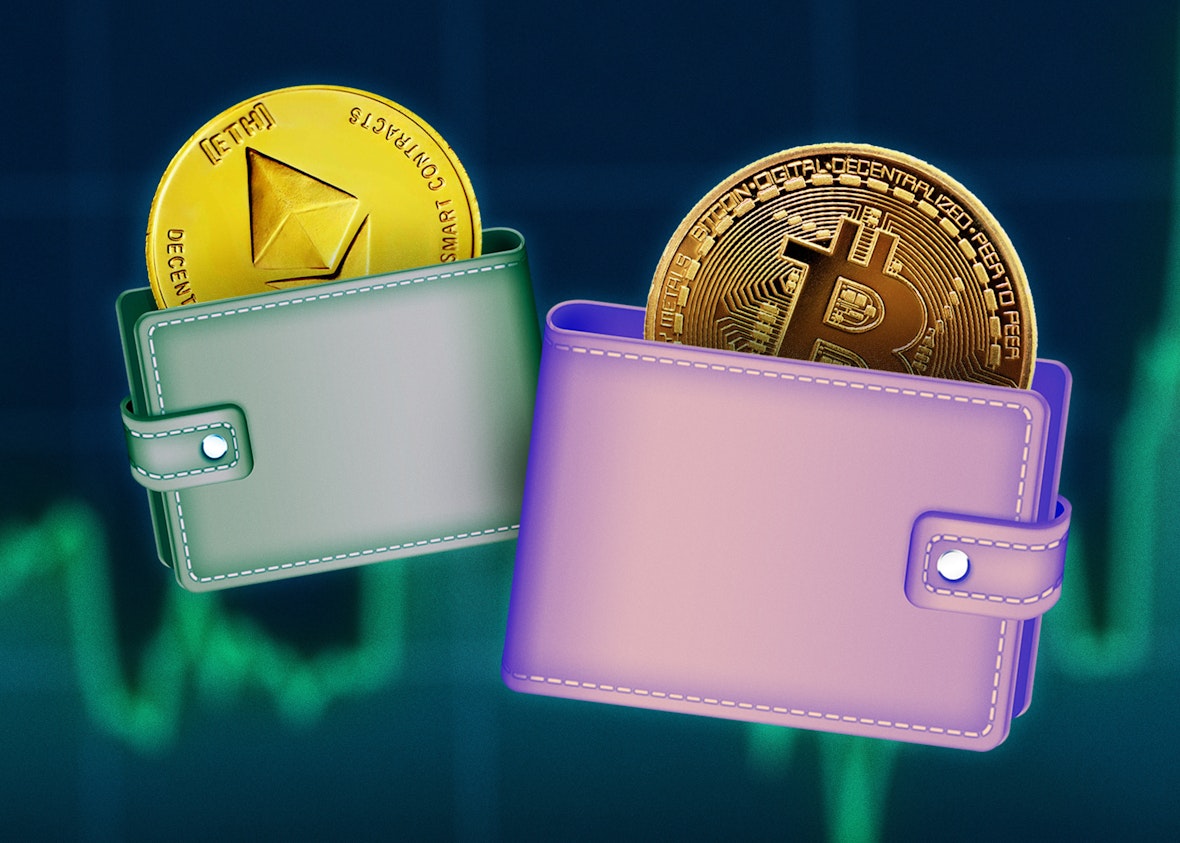 What Are The Other Types of Cryptocurrency Wallets?
There are mainly five other different cryptocurrency wallets available. Each offers distinctive features and security levels to make sure they offer protection to your coins and private keys.
If you are wondering which crypto wallet to use, check the best crypto signals provider and see what wallet they use. They are professional traders and always make use of the best and most secure wallets.
Mobile, desktop, paper, hardware, and online wallets are the five types we're about to discuss. Let's dig in!
Online/ Web Wallet
Online or web wallets permit users to use their wallets via an Internet browser. We recommend you not to store your cryptocurrencies in these forms of wallets.
Both web wallets and online exchanges are highly vulnerable to cyber threats. It is a 'walk in the park' for hackers to tap into your online wallet. Though Online wallets are the quickest when it comes to transactions, we ask you to please stay away from it!
Mobile wallet
Mobile wallets are your super convenient, on-the-go wallets. Download and install on your smartphone, and you are all set! These wallets permit users to access cryptocurrencies via their mobile devices. Users can scan the QR code via their mobile wallets and make payments in a jiffy.
Mobile crypto wallets are all-in online mode and more prone to security threats. Make sure you secure it with a strong key.
Desktop Wallets
A desktop wallet isfar the most secure option to pick! It is the extra stable way to store cryptocurrencies.
Desktop wallet security beats mobile and the web wallet fair and square. The main reason desktop wallets are so safe is it allows you to store currencies in offline mode.
Final Verdict
After having a closer look at all possible crypto-wallet types, we see desktop wallets as the most secured ones. However, storing currencies in offline mode is a bit cumbersome. The process might be a little daunting for newbies and inexperienced traders.
For them, a mobile wallet is also a decent option to start with- provided you use a VPN while logging in to your wallet or performing an online transaction.